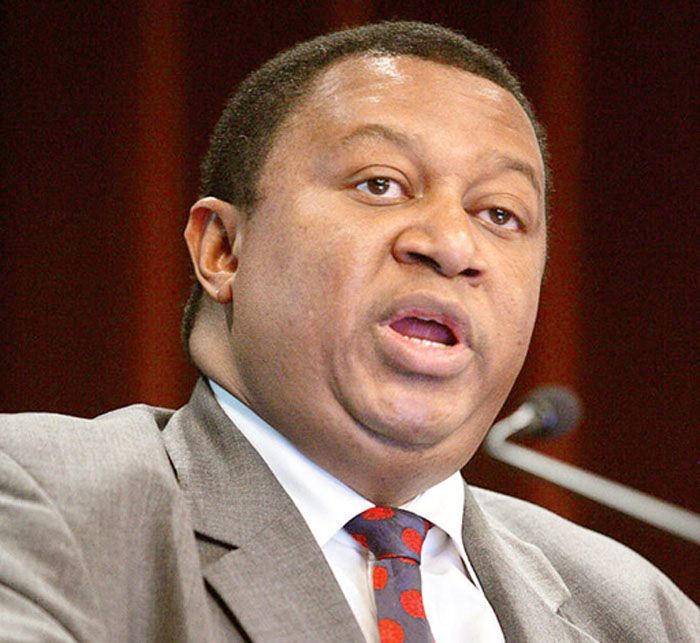 Opec secretary general Mohammed Barkindo this week stoked expectations that the Opec-non-Opec "energy deal of the century" will be renewed
The 173rd meeting of Opec oil ministers opens in Vienna on 30 November but the gathering will be anything but routine.
It will set the scene for the organisation to renew the energy deal of the 21st century.
Later that day, Opec ministers will meet representatives of 10 non-Opec nations about a plan to extend the landmark declaration of cooperation deal they approved last December to stabilise oil markets.
The 24 countries involved produce about 50m barrels a day (b/d) of oil, more than half of the world total.
Nowhere on earth will there be a greater concentration of energy industry power.
A new deal is likely. But pessimism was pervasive this time last year.
Two years earlier, Opec had abandoned attempts to support oil prices. The result was the sharpest absolute price fall in oil industry history. In January 2016, the Opec basket was below $23 a barrel. Prices recovered later in the year but averaged just over $40 a barrel in 2016 as a whole. That was barely half the 2014 level. The price crash delivered a crushing financial blow to oil exporting nations and decimated the global oil and gas industry.
But it seemed that Opec was incapable of doing anything about it. Despite reporting huge budget and current and account deficits, Saudi Arabia for most of 2016 rejected calls for urgent Opec action to reverse the slump. The environment was further contaminated by the rivalry between the kingdom and Iran which was boosting output following the relaxation of the anti-nuclear embargo on its oil exports at the start of the year.
The replacement of Ali al-Naimi with Khaled al-Falih as Saudi oil minister in May 2016 raised hopes the new man at the top of the kingdom's energy would be open to a compromise. But Al-Falih, like Al-Naimi, resolutely rejected suggestions the kingdom should once again become Opec's swing producer and cut exports unilaterally
Speaking in London 19 October, Opec secretary general Mohammed Barkindo said there seemed to be no prospect of a credible deal emerging at an emergency ministerial meeting held in Algiers on 28 September. An agreement limiting total Opec output for the first time since 2008 was nevertheless secured. It called for Opec's combined output to be cut to 32.5m-33m b/d and for non-Opec nations to co-operate with efforts to stabilise the market.
In hindsight, the Algiers deal of 2016 was a turning point but it didn't seem so at the time. Many doubted it would hold and forecast it would collapse if leading non-Opec nations, particularly Russia, didn't limit output too.
"(There was) some scepticism about whether OPEC could implement what was agreed in Algiers in a full and timely manner," Barkindo said. "Moreover, there were possibly even more sceptics who poured scorn on the idea of bringing on board non-OPEC nations to take part in the market rebalancing process."
Russia, the world's largest oil producer, had previously said it was prepared to contain output, but only if Opec – and Saudi Arabia in particular – did too. Opec's decision at Algiers which called for the kingdom to cut by almost 500,000 b/d cleared the way for Moscow to follow suit.
In Vienna on 10 December, Opec and non-Opec ministers agreed a declaration of co-operation which involved a combined reduction of 1.8m b/d for six months starting in January 2017. It was unprecedented and, for that reason, seen as unrealistic.
As expected, not everyone's lived up to their promises. But the deal has been largely honoured and it was agreed in May to extend it to the end of March 2018.
Helped by higher-than-forecast world demand growth, the agreement's boosted the Opec basket price. It's averaged around $10 a barrel more so far this year than in 2016. At the end of October, the basket was at $55 a barrel with $60 a barrel in sight.
More striking has been the impact on crude oil inventories. At the end of September, OECD stocks were 159m barrels higher than the five-year average compared with 338m barrels at the start of the year.
"There has been a massive drainage of oil tanks across all regions, in terms of both crude and products," Barkindo said. "A balanced oil market is now fully in sight."
The oil price rebound — coupled with lower stocks and a forecast world oil demand will rise by about 1.4m b/d in 2018 — has encouraged growing compliance with the Opec-non-Opec deal. Expectations are rising that it will be extended for nine months.
Barkindo wants to go further. At a press briefing in London following his conference speech, he said the declaration of cooperation could be converted into a permanent institution that would allow its 24 supporters to meet regularly. He also invited more non-Opec nations to support the declaration and said oil-consuming countries should participate as well.
The elephant that isn't in the room is the US where crude oil output rose to almost 9.6m b/d at the end of September. There's no suggestion the US government is being engaged to support the declaration but Opec is reaching out to US independent oil producers, including shale oil drillers.  Barkindo met some in Vienna in March.
"We are looking forward to recovening with them," Barkindo said.
But he's in no doubt that the global oil and gas industry entered a new era on 10 December 2016. A channel has been created to support collaboration among Opec and non-Opec nations, producers and consumers and national oil companies and international oil companies.
"This mechanism is a work in progress," Barkindo said. "We are working with Russia and other countries including Saudi Arabia about how we can structure this platform. The Saudi king's visit to Russia shows the growing importance of bilateral relations between Saudi Arabia and Russia and between Opec and non-Opec nations led by Russia. All the bases are falling into place support what we have done to make sure it's sustained."