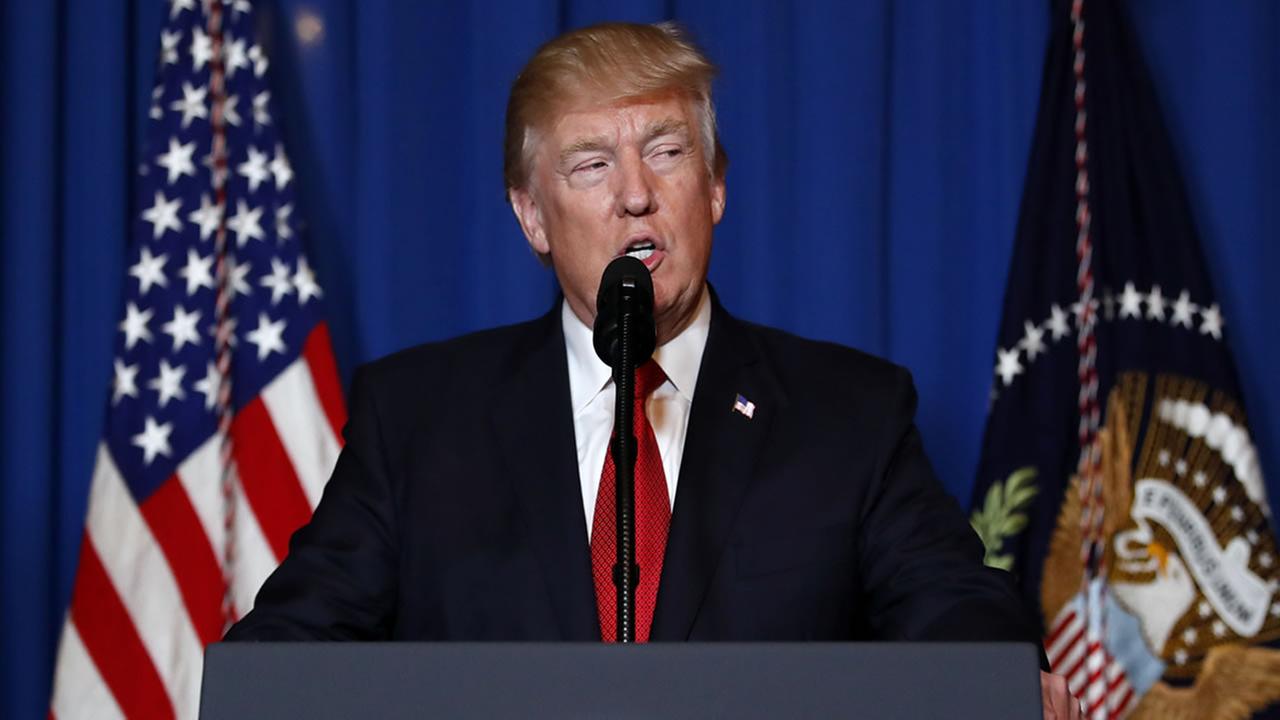 The US missile attack on a Syrian airfield last night comes just over three weeks after Saudi Arabia's Deputy Crown Prince Mohammed Bin Salman met President Trump in the White House in what an advisor to the kingdom's defence minister said was a turning turning point in relations between Riyadh and Washington.
This may be a coincidence about which no conclusions should be drawn
But the U-turn in Trump's attitude to Syria's President Asad following a chemical attack on Idlib reported on 4 April owes at least something to Saudi Arabia's unrelenting demand for regime change in Damascus.
Convinced by Prince Mohammed Bin Salman or not, President Trump has aligned the US more closely with the kingdom's regional strategy than since George W Bush left the White House in 2009.
Since November, Trump has confirmed his strong support for the oil and gas industry, junking President Obama's strategy, appointed as secretary of state the former CEO of ExxonMobil, the largest foreign investor in Saudi Arabia, and made Rick Perry energy secretary. He went to the same Texas university as Saudi Energy Minister Khalid al-Falih.
He's agreed with the kingdom's view that Iran is a destabilising force in the region and the world.
It was reported at the end of March that Defence Secretary Jim Mattis had asked the White House to lift Obama-era restrictions on US military support for Gulf states fighting Houthi rebels in Yemen. In a memo to national security adviser H R ­McMaster, Mattis said that "limited support" for Yemen operations being conducted by Saudi Arabia and the UAE would help combat a "common threat."
US military activity in Yemen until now has been confined mainly to counterterrorism operations against al-Qaeda's affiliate in the country and limited indirect backing for Gulf state efforts in the two-year-old war.
The Trump administration was also reported in March as planning to resume sales of precision-guided weapons to the kingdom.
Saudi Arabia will be pleased that Trump has failed to fulfil his promise to move the US embassy to Jerusalem, a symbolic act that delights US voters who love Israel but one that is meaningless to most Israelis and dangerously provocative to many Muslims.
Israeli Prime Minister Binjamin Netanyahu approved a new West Bank settlement on 30 March but at the same time was reported to have briefed ministers that he intends to slow settlement activity to please Trump.
This is music to Saudi Arabia's ears. The kingdom's once more got a friend in the White House.
Meanwhile, Saudi Arabia's encouraging its allies and partners in the Middle East to close ranks. Oman, which disappointed Riyadh by refusing to join the anti-Houthi alliance in 2014, said in December last year that it would do so after all.
Qatar has announced plans to resume development of the North Field, the world's largest non-associated gas reservoir which it shares with Iran. It declared a North Field project moratorium in 2005 motivated by the desire to conserve its gas reserves but also to please Tehran with which there is no deal about sharing the field.
Restarting investment there delivers a strong message to both Tehran and Riyadh.
The kingdom's also patched up a row with Egypt about what Saudi Arabia claimed was Cairo's excessive zeal for working with Russia.
In October 2016, Egypt broke ranks with the kingdom to vote for a resolution drafted by Russia about the conflict in Syria. This followed Saudi Arabia's decision to suspend monthly supplies of 700,000 tonnes of oil to Egypt agreed in a deal reached in April. The Egyptian media, largely controlled by the state, published stories that Saudi Arabia was supporting terrorists in Syria and Yemen.
The dispute, which echoed historic confrontations between Egypt and the kingdom's ruling Al-Saudi family, seems to have been settled. Egypt's government said on 15 March that Saudi oil deliveries would soon resume.
The White House's decision to use force against Asad's regime despite Russian protests and without UN approval and explicit support from Nato partners echoes the US-led coalition's invasion and occupation of Iraq in 2003.
What's different this time is Saudi Arabia's shaping America's actions in the region. A new strategic partnership's being created between Riyadh and Washington that encompasses oil, money and the Middle East's direction and security.
Events in Syria yesterday are just the start.